PBL: How do we use energy efficiently without depleting our non renewable resources
Friday, January 16, 2015
---
Topic
Energy
Goals/Objectives
The student will identify the different energy resources and understand their impact on the environment.
Theme
Effect of usage of renewable and non renewable energy resources on the environment
Scenario
President Obama and the Environmental Protection Agency have passed a law that coal burning factories have to reduce emissions by 30% . You have been chosen as part of GGS ( Go Green Squad) to find a different ways to use energy efficiently in your school and help it become environmentally friendly
Culminating Activity
Come up with a plan to to present to the school board outlining your plan to make your school more energy efficient and environmentally friendly.
Problem Question
How do we use energy efficiently without depleting our non renewable resources
Student Role
The students will become the experts on alternative energy and conservation. Go Green Squad!
Question Map: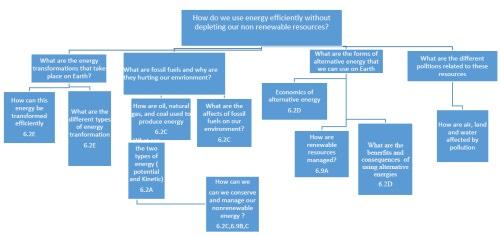 Created by Bowling Green Elementary.
---
by Chris Mystkowski at 2:35 PM
in Elementary, Earth and Space Science, Problem Based Learning/PBL, Middle School