PBL: Develop a Public Transportation System that Utilizes Renewable Energy
Tuesday, April 21, 2015
---
Topic
Scientific investigation (via use of the process skills and scientific method), force and motion, electricity, solar energy, Virginia natural resources.
Goals/Objectives
Standards of Learning:
5.1 – The student will demonstrate an understanding of scientific reasoning, logic, and the nature of science by planning and conducting investigations.
4.2 – The student will investigate and understand characteristics and interactions of moving objects.
4.3 – The student will investigate and understand the characteristics of electricity.
4.9 – The student will investigate and understand important Virginia natural resources.
Students will utilize the following problem-solving skills: making observations and inferences, drawing conclusions, analyzing data, synthesizing practical solutions, determining cause and effect, comparing and contrasting, etc.
Students will also utilize the following self-directed learning skills: goal setting, decision-making, reading, writing, listening, communicating, reflection, etc.
Theme
Public Transportation
Scenario
Within the next twenty to thirty years, the world will have exhausted all of the fossil fuels we get from the Earth. A new system of public transportation must be built that relies upon alternate forms of energy.
Culminating Activity
Testing of the bus models according to the variables introduced during the unit.
Problem Question
What is needed to develop a public bus transportation system that utilizes renewable energy sources?
Student Role
All students will assume all the responsibilities that all scientists portray. Each student will act as a leader to keep the group on task, communicate with group members and the class as a whole, assume responsibility for clean-up and safety, and share the responsibility of gathering and returning materials.
Question Map: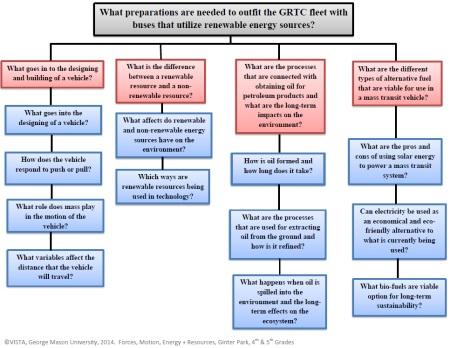 Created by: Paula Monroe, David Probst, Chris Lombardi, Ginter Park ES
---
by Science Generalist at 5:25 PM
in Elementary, Earth and Space Science, Physical Science, Problem Based Learning/PBL