PBL: Commotion in the Ocean Overview
Tuesday, March 17, 2015
---
​
Question
How can we minimize the impact to the ocean environment if the energy resources are developed off the coast of Virginia?
Problem ~ Scenario
Energy resources off the east coast of North America are very valuable. One of the most significant energy issues facing President Obama is whether to allow leasing of offshore land for drilling oil and natural gas, where production has been off-limits. Scientists are investigating areas off the coast of Virginia to develop these resources. Residents and tourists on the east coast are concerned about the development of these energy resources in the Atlantic Ocean. The Bureau of Ocean Energy Management (BOEM) will offer leases for drilling of oil and natural gas, and will also offer for auction the development of wind or tidal turbine farms off the east coast. The Virginia Department of Environmental Quality (DEQ) is enlisting you and your team to determine how to minimize the impact of these energy resources on our environment. As a member of the DEQ advisory task force you will investigate the issues, evaluate the impacts of the different energy options, and inform the public.
Task ~ Culminating Project
Develop a report for the Virginia Department of Environmental Quality. Your report could include presentations, videos, interviews, and other forms of communication to address concerns, trends, and workable solutions for the impact of offshore energy resources.
Student Role (research job)
Oceanographers/Oceanologists hired by DEQ: cover a wide range of topics including marine life and ecosystems, ocean circulations, plate tectonics and the geology of the sea floor, and the chemical and physical properties of the oceans.
Unit Title: Commotion in the Ocean PBL SOL 5.6

Overview

Level 3 Question(s) Addressed: ​

How oil and natural gas is found and extracted & how wind and tidal power is utilized & discourse findings (NOS)
How energy resources currently being utilized and those being proposed by the government.

Content Standard(s):
NOS Aspects

Standard 4.6
Standard 4.9
Standard 5.6 a, b, c
Standard 5.7 f, g

The natural world is understandable
Science demands evidence
Scientific ideas are durable
Science is a blend of logic & imagination
Science is creative

Student Objective(s) for this lesson: ​
The student will research how oil and natural gas is found and extracted & how wind and tidal power is utilized & discourse findings (NOS). ​
Safety Concerns in this lesson: ​

Safety 1: Addressed in activities




DAY 1 – Introduce problem, scenario, and brainstorm questions for question map

MATERIALS: Poster paper, Post-it Notes, Markers

DAY 2 – Discuss question map (teacher created) and brainstorm ideas for culminating activity

Research how oil and natural gas is found and extracted & how wind and tidal power is utilized & discourse findings (NOS)

Discuss the energy resources currently being utilized and those being proposed by the government.

MATERIALS: Computers, BOEM website, Curriculum map
Question Map: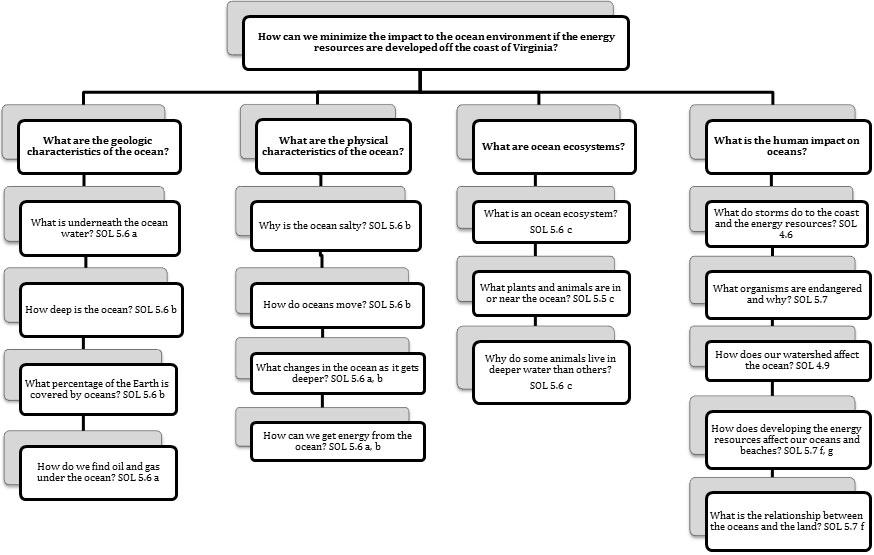 ---
by Science Generalist at 1:27 PM
in Elementary, Earth and Space Science, Physical Science, Life Science