PBL: Impact of a Buzzard Rock Reservoir
Thursday, January 29, 2015
---
Topic
Buzzard Rock Reservoir 6th Grade Science
Goals/Objectives
6.4A-G; 6.5A-C, F, G; 6.1A, B, C, D, E, F, G, H, I, J, K; 6.7 A-G;
6.9A-D
Theme
Water And Matter
Scenario
The city of Roanoke is considering the construction of a new reservoir to serve the SE community. The proposed location of the new reservoir is beside the Roanoke River on what used to be an Indian Settlement. You have been tasked to assess the impact of this project on the community, and develop a cost/benefit analysis. You will present your findings to the town council.
Culminating Activity
The town council has charged you with the task of creating a presentation of your findings.
Problem Question
How can we manage the effect of a new reservoir beside the Roanoke River on the old Buzzard Rock Indian Settlement?
Student Role
Research Assistant for the SW VA water Authority.
Question Map: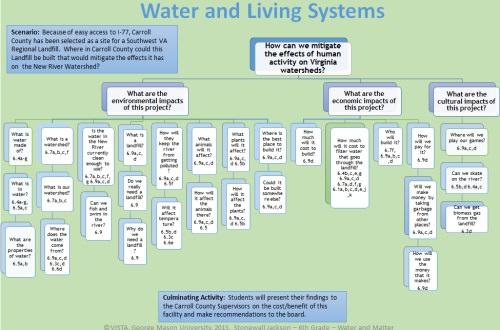 Created by Stonewall Jackson Middle.
---
by Chris Mystkowski at 5:15 PM
in Elementary, Earth and Space Science, Problem Based Learning/PBL, Middle School