PBL: Are You Smarter Than A Meteorologist?
Tuesday, March 24, 2015
---
​
Topic
Weather (15 days)
Goals/Objectives
Standard 4.6 The student will investigate and understand how weather
conditions and phenomena occur and can be predicted.
Key concepts include:
a) weather phenomena;
b) weather measurements and meteorological tools; and
c) use of weather measurements and weather phenomena to make weather predictions.
Theme
Are You Smarter Than A Meteorologist?
What Prediction(s) Can YOU Make?
Scenario
The 4th Grade Team was asked to decide what would be the best day to schedule the outside "Big Event" in the Fall for the school. Your task is to use your Meteorologist skills and make a Weather Forecast and predict the best day to have the event.
Culminating Activity
Students in 4th Grade will give the Weather Forecast each day as part of the morning announcements. Students will create a Weather Board that charts the weather for the school year. Students will also compare weather in Virginia with several other states/countries.
Problem Question
What Are The Weather Conditions For Today?
What Is The Best Day To Have Our Outside Big Event?
Student Role
Each student will be a Meteorologist and create a Weather Forecast based on data and observations of clouds and weather conditions outside of school. Students will use information and display on classroom weather map of Virginia and grade level weather chart.
Question Map: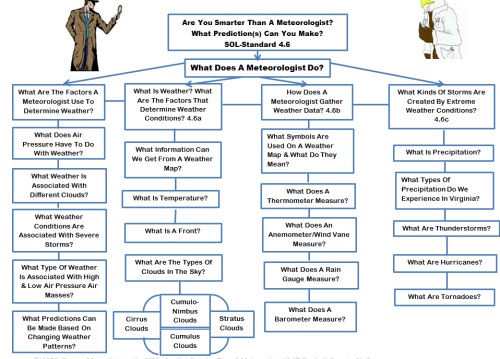 Created by: JL Francis and Stalling.
---
by Science Generalist at 10:16 AM
in Elementary, Earth and Space Science, Problem Based Learning/PBL